GMC has always produced a capable pickup and we knew something exciting was about to happen; we just didn't know what. Now we have the inside scoop! The GMC Sierra AT4 is now available with a performance package.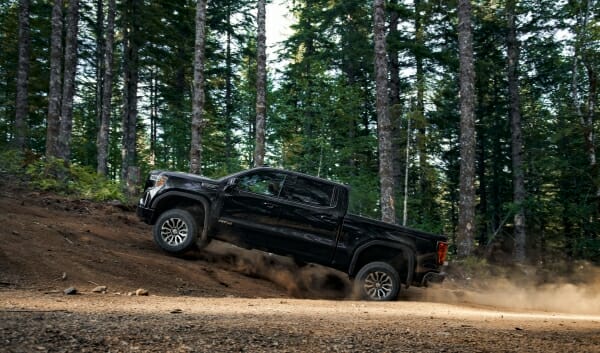 What is the GMC Sierra AT4 Performance Package?
If you want to get the idea of what we are looking at with the GMC Sierra AT4, peek at the 2019 Chevy Silverado 1500 Trailboss. These two trucks have a lot of the same features. You get the two-inch trail-tuned suspension lift, Rancho shocks plus 33-inch Goodyear Duratracks. While these basic features are the same, the AT4 has a lot more to offer.
Let's start by looking at what's happening in the rear. You have the option of a five or eight-food bed; each with 62.9 or 89.1 cubic-foot capacity. There's also a 110V outlet plus a folding step which comes out of the tailgate.
Even though that all sounds incredibly thrilling, there's something even more amazing. There's a carbon-fiber composite bed. That's right! This top of the line bed is going to be available for the GMC Sierra 1500 AT4.
More Details
Of course, this fun package won't be in dealerships until later in 2019, but that hasn't stopped GM from showing it off. The new carbon-fiber bed panels increase the durability, reduce weight plus offer a unique look.
Aside from that, GM also updated the exterior to offer a performance appearance. It has red tow hooks plus grille inserts. There's a multi-color head-up display combined with a rear-camera mirror; ideal for any luxury truck buyer. In fact, if you aren't towing, you might just forget you are in a truck.
We aren't sure what the fuel economy will be yet. If we look at the 2019 Trailboss, we might get an idea since this pickup is rated at 15/20 mpg. We imagine that the Sierra 1500 GT4 might do better than that considering it has a composite bed construction included.
We will be sure to give you more information as we receive it. Don't forget that the Chevrolet Silverado 6.2-liter OHV V8 with DFM was just named to the 2019 Wards Best Engines list.