Tesla has thought of everything. Now, your dog won't have to be uncomfortable on a hot, summer day anymore. With Tesla's new Dog Mode, your pooch gets the love it finally deserves, and it isn't through a cracked window.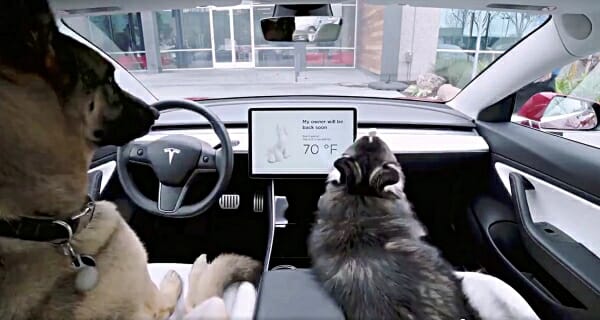 Introducing Dog Mode
The name pretty much tells you what is going on. Dog Mode operates to keep the interior of your car at optimal temperatures to accommodate your dog. It leaves him or her feeling comfortable when you step out.
Furthermore, the temperature of the cabin prominently displays itself on the touchscreen. This thwarts concerned citizens from judging you as they walk by. Instead, they'll realize that you are the best pet-owner in the world.
Introducing Dog Mode: set a cabin temperature to keep your dog comfortable while letting passersby know they don't need to worry pic.twitter.com/xFU6MGZT53

— Tesla (@Tesla) February 14, 2019
If you want to enable Dog Mode in your Tesla, simply follow these instructions:
Tap the fan icon after parking the car.
Set Keep Climate On to "DOG"
Make the adjustments within the temperature limits
Walk away from your pet with complete confidence that they are comfortable.
Dog Mode continues to run even while you are gone.
Many people are concerned about battery usage, but that's already been dealt with. If your battery hits 20% or less of a charge, you receive a mobile app notification.
The best part is that Tesla owners don't need to buy something special to get access to this pet-loving system. A new wireless software update gives you access to this feature right now. Keep in mind that there are some states with laws concerning leaving your pooch in the car on a hot day, so that's something you want to think about. Using your Tesla system may or may not get you off the hook with law enforcement.
Future of Tesla
This is just one of the many things we expect to see from the company in the upcoming months. There has already been word about the Tesla Model Y and the Tesla pickup truck coming soon.