Tesla began rolling out the new brake lights on their Model 3 cars in Europe. The goal behind this new safety feature is to avoid rear-end accidents. It's part of the 2019.8.3 software update which also brought some other elements to the table. While we won't get Tesla Dynamic Brake Lights in the United States right now, it's still vital that we learn what's coming soon.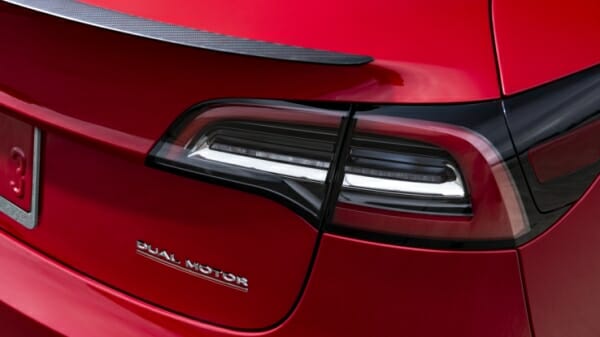 How Do Tesla Dynamic Brake Lights Work?
Anytime you drive over 31 mph and brake with force, your lights will flash rapidly. Since they flash quickly, it warns the other motorists that you are slowing down. While this in itself is enough to prevent a collision, the feature also turns on the car's hazard warning lights as well.
As soon as you let off the brake and press the accelerator again, the lights turn off automatically. If your Tesla stops completely, then the hazard warning lights remain flashing until you push the button or let off the accelerator.
As of right now, the European owners of a Model 3 are the only people reporting the new light feature. They received it during the latest update. We expect that Tesla will roll out this feature to other markets and vehicles after some preliminary testing.
Trouble in the US
The company does face some difficulty introducing this feature in the States. Our country has strict regulations about what's acceptable for the brake lights to do. Despite the fact that companies such as BMW have been doing this for decades in Europe, America still hasn't adopted the technology yet.
Tesla might just be the pioneer that opens America's eyes to technology that prevents accidents. Sure, it seems a little strange having Tesla offering revolutionary safety technology following the latest crash. While we don't think we will see this provided in the 2020 Tesla lineup, it's still possible it could be a part of our future vehicle technology. What do you think?