If you've been thinking about purchasing the Tesla Model 3, you might want to consider how much winter weather it will see. Many people have wondered about the performance of the Tesla Model 3 in snow and now we have the answers from users around the country.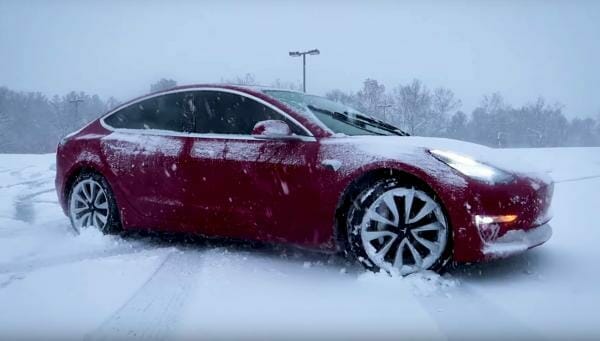 Tesla Model 3 in Snow
It appears that the Tesla Model 3 struggles in winter weather. While the first Model 3 vehicles started being delivered last year, many of them went to users in California. Of course, this sunny state doesn't battle with snow like some of the northern states do, so there weren't many reports about snowy driving.
With that said, users are now taking to the web to express their dissatisfaction of the Tesla Model 3 in snow. Many of them claim that the parts freeze shut when the temperatures dip below 32-degrees Fahrenheit. This isn't just the windows and door handles we're talking about, but also the charging ports. Any time the air is cold enough, water vapor freezes and becomes trapped which causes the hinges to seize.
On a Tesla Model 3, drivers must press the recessed door handles inward to force them out. This doesn't work well once it becomes frozen and stuck.
Even the editor over at Electrek took his concerns to social media. After leaving his Model 3 in the winter weather (at 19 degrees Fahrenheit), here is what he found.
Tesla Model 3 seems to have some real issues in cold weather. After getting some reports, I walked down to my car and sure enough I had the same problem with today's cold https://t.co/HVQcNexezr pic.twitter.com/04Y3lApjkP

— Fred Lambert (@FredericLambert) November 14, 2018
Not only are his door handles jammed, but he has to continually hammer on them to make them work. This is after 10 minutes of preheating the car. Even after he got the handles loose, the windows remained frozen and made it impossible to get inside.
Driving a Tesla Model 3 in Snow?
The good news is that YouTube is filled with videos of drivers sharing how well the Tesla Model 3 performs in the snow. So, if you can get inside of it, you should be fine on the road.
Here's what one user posted:
At this time, we still have to advise against owning one of these in the northern region. Even though Tesla hasn't responded to the reports, we think it's best to stick to driving this electric car where it's warm, unless you don't have to get anywhere fast.
It may have earned a five-star crash test rating, but this isn't a winter-weather winner.