In the race to have the best electric vehicles, Toyota is introducing us to the upcoming bZ4X model. The Toyota bZ4X SUV recently debuted and it's quite amazing, with up to a 250-mile driving range per charge. We expect this Toyota EV to go on sale mid-2022, but have some details you might want now.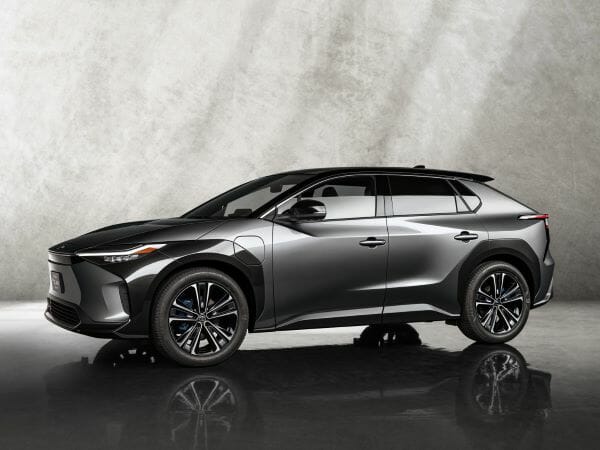 Toyota bZ4X News
At first glance, you might notice that the 2022 Toyota bZ4X is similar to the RAV4, in terms of size. The new bZ4X comes standard with front-wheel drive. It is also going to be equipped with a 71.4-kWh battery pack and will create 201 horsepower. However, there's also a 215-horsepower model with all-wheel drive and a larger 72.8-kWh battery pack.
The "bZ" designation stands for "Beyond Zero." This will be the lineup of electric models produced by Toyota from now through 2025. For now, the automaker has planned to release seven of the Beyond Zero electric vehicles, with the bZ4X listed as the first.
While we don't know the prices yet, we think it could be similar to the Ford Mustang Mach-E or the Volkswagen ID.4. If that's the case, we can expect it to start around $40k.
Toyota bZ4X Features
The new Toyota bZ4X comes equipped with all of the latest safety tech you desire. Even the base models will include automatic emergency braking, detection of motorcycles, guardrails and bicycles, lane centering technology and adaptive cruise control. You can also use your smartphone as the SUV's digital key.
What's interesting about the bZ4X SUV is the energy saving features that help extend its range. With the efficient climate control system that relies on a heat pump, there's less power wasted. Plus, the Toyota EV has radiant heaters along the footwells to reduce the use of cabin heat.
We can't wait to learn more about the upcoming bZ4X and will be sure to pass along any new information. The big question is, will the automaker be able to use this technology to create an electric Toyota Tundra?