Mopar will be a hit this year at SEMA. They built two brand new customized concept pickups. On top of that, they have 14 new custom-built vehicles displayed at the15,000 square-foot exhibit this year. Mopar will stand out at this massive aftermarket parts show. You can see their two Mopar concept trucks customized with accessories, prototype and production parts.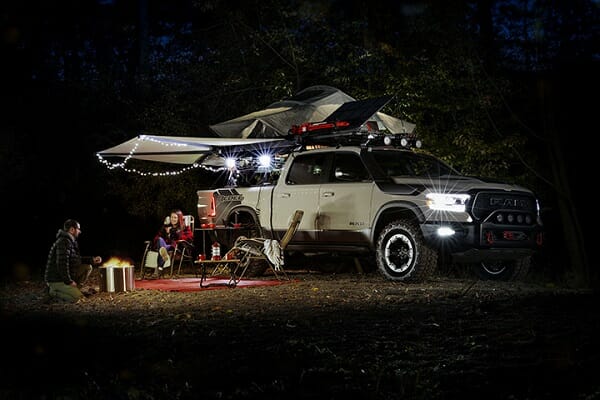 Ram 1500 Rebel OTG Concept (Off The Grid)
This all-new 2020 Ram 1500 comes with a 3.0 liter V-6 EcoDiesel engine, which offers superior low-end torque. With a 33-gallon tank, it provides a larger driving range, making this one of the best pickups for long-distances.
This vehicle is meant to handle the outdoors like the production Ram 1500 Rebel. It also has 35-inch Goodyear tires, a two-inch lift kit and Beadlock wheels. Check out the bed rack that fits on top of the pickup bed and a collapsible rooftop tent that you access using the stowable ladder.
Mopar offers a retractable battery-powered cooler, a kitchen unit complete with a sink, gas-powered stove and an on-board water system.
If that isn't enough, it also has a solar panel set. Use this to produce electricity without a gas-powered generator. This provides more space for cargo.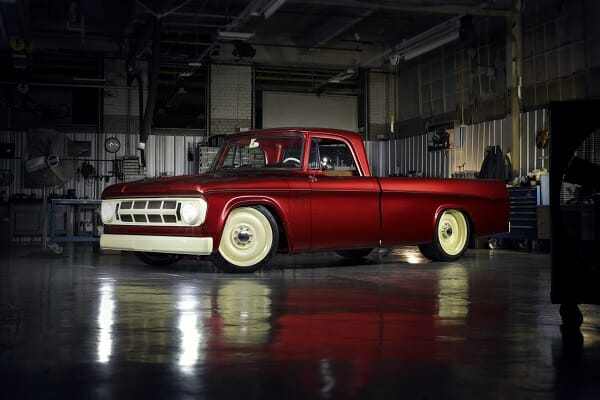 Mopar Lowliner Concept
The Lowliner is a 1968 Dodge D200-series redesigned into a sleek concept truck. Under the hood, you see a 5.9-liter Cummins diesel engine paired to a six-speed manual transmission. Subsequently, the engine comes showcased with a power-tilting front end. 
The designers created a stylish appearance by making the graphics more simple. Mopar also removed the badging, door handles, radio antenna and fuel-filler cap.
The engineers moved the front axle up three inches. Likewise, a custom air suspension was added to the front and rear axle. To make things even better, they put three different height modes on it: low, driving height and driving height plus. 
The well-known original headlamps were replaced with seven-inch LED lights. Similarly, the Lowliner now features custom tail lights that come with integrated backup lights. There is also a Mopar Omega M logo on the headliner and the front fenders. 
The classic Dodge graphic is included on the tailgate of the pickup. To top it all off, there is a floor-mounted shifter with a translucent metal-flake shift ball and Cummins logo.
What Do You Think of the Mopar Concept Trucks?
In conclusion, what are your thoughts on the new Mopar trucks? Would you consider buying one of these? Let us know in the comments below. Stay tuned for more updates on the SEMA Show right here at carblogwriters.com.