We've gotten a glimpse of the Volkswagen T-Roc Cabriolet on the road. This convertible version of the T-Roc is the first convertible crossover. It opens in nine seconds and closed while on the move – even while traveling up to 18.6 mph. Of course, we don't get this model in America, but it's a glimpse of what might be to come.
Let's take a closer look at the VW T-Roc Convertible.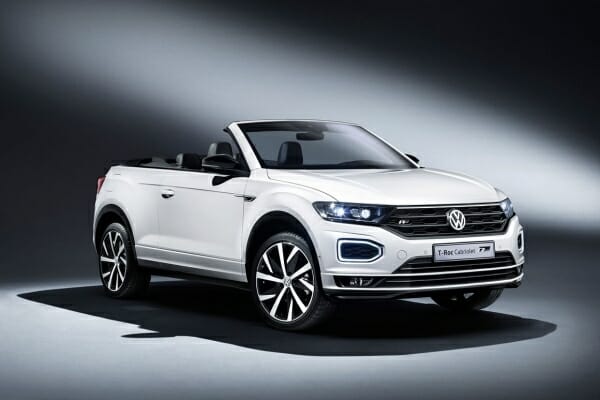 Volkswagen T-Roc Cabriolet
The VW convertible comes complete with rollover protection and a reinforced windshield. It comes with two gas engines: the 1.0-liter three-cylinder or a 1.5 four-cylinder. It also has 10 cubic feet of trunk space.
The two available design packages include the Style Package with 17-inch wheels, leather interior and ambient lighting. The R-Line comes with standard fog lights, leatherette sport seats and 17-inch wheels. Both of these packages also include low-speed emergency braking, pedestrian detection, lane-keeping assist and the option to upgrade to 19-inch wheels.
We will get a better look at this model during the Frankfurt Motor Show next spring.
VW SUV Success
While we can't expect this VW SUV model to make it to our shores, it does show how invested the company is in their SUV lineup. They already have a lot of success with the Tiguan and Atlas. We wonder if they could throw a convertible top on one of them for us?
Of course, that's just a dream that won't happen. Maybe with enough pressure, we can convince them to bring us the T-Roc. We are sure it would be well received and create a following. It's possible they could do something with the Tarek if they wanted to.
This news comes on the heels of the announcement that VW says goodbye to hybrid production. Let us know your thoughts and the latest style and if American models might adopt it.