At this year's Geneva Motor Show, we heard a lot about the newest electric and hybrid vehicles. That's what made it so odd to see the Volkswagen Touareg with a diesel V8 engine. The reason they showcased this particular model was to announce it would be the last V8 diesel from the company.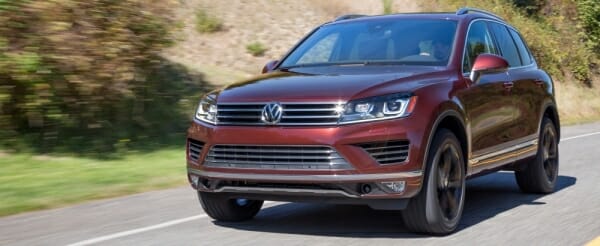 Diesel Irony
Do we really have to get into why this is an interesting story? VW has long been immersed in the Dieselgate scandal because of emissions cheating. After all of that, they think it's a great idea to bring their diesel V8 to a car show where everyone is discussing new technology. Strange, to say the least.
If you don't know about the VW Touareg V8 TDI, it does pump out 419 horsepower plus 664 pound-feet of torque. This diesel V8 crossover came to be after the scandal that forced them to invest billions of dollars in electric lineups. Yet, they showed up at the Motor Show with yet another diesel-powered vehicle.
Of course, we don't have the VW Touareg V8 TDI in America, and we never will. With that said, it will be the last V8 diesel from the automaker in Europe. The Touareg will also be the last to use the V8.
Last V8 Diesel – Moving to Electric
It's interesting to see what the future plans are for this huge crossover within the electric lineup. By 2022, VW hopes to have 27 electric vehicles using their new platform worldwide. This program began this year with the ID small hatchback. They also plan to release the ID Crozz, the ID Buzz and more which haven't been identified yet.
Of course, we report on all the latest electric VW news. We recently told you about VW's use of Tesla batteries, the VW Dune Buggy and the VW Cargo e-Bike. Stay tuned to Car Blog Writers for more information.