Continuing with our 2018 LA Auto Show coverage, we have this little VW Cargo e-Bike to share with you. It's the automaker's smallest commercial vehicle ever and might revolutionize the way things get done in the city. It's also their first e-bike.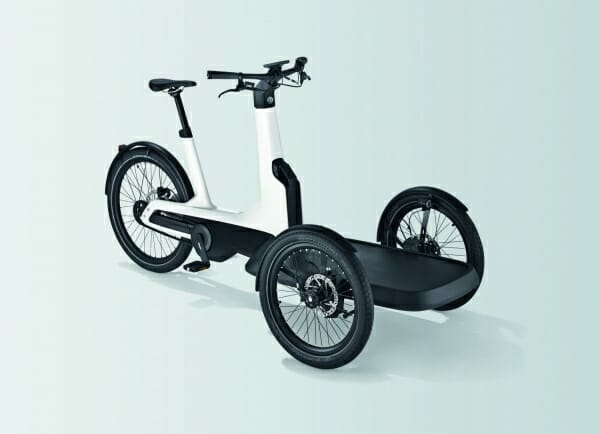 Check Out the VW Cargo e-Bike
Prior to the Los Angeles debut, it was first shown off at the 2018 IAA Commercial Vehicle Show held in Hanover. It's specifically designed for downtown usage. We also see a use for it in production plants, hotels and certain businesses. As you can see, there really is an endless opportunity available for a vehicle like this.
This Volkswagen Cargo e-Bike is emissions-free and can reach places a typical delivery truck can't. That's what makes it ideal for use in pedestrian-only centers. The bike features two wheels located in the front and a load platform positioned low between them. Then, it features a cargo box mounted on the platform. Surprisingly, this box has a storage volume of 17.7 cubic feet.
What's most remarkable about the e-Bike is how much it can carry. In fact, with the rider included, it will hold 463 pounds. Plus, with the tilt-compensation technology, the platform stays horizontal through turns. This means that nothing harms the goods in transport.
The power comes from a 250-watt 48-volt electric motor. Because of this, the rider easily pedals up to 15.5 mph. At the same time, the energy is supplied through a 500 Wh lithium-ion battery which propels this bike to travel 62 miles per charge.
As you can tell, it's also quite lightweight. At just 88.1 pounds, it feels like you're driving a bicycle. On top of that, the long wheelbase and lower center of gravity enables the bike to offer a higher level of rollover safety than you would expect.
We expect the arrival of the VW Cargo e-Bike on the market in 2019 after being produced in Germany.
Volkswagen at the LA Auto Show
VW is featuring several other automobiles at the show. Not only can see the Cargo e-Bike, but you have access to several other vehicles.
I.D. Buzz Cargo
I.D. R
Passat
Jetta
Golf
Atlas
Tiguan
Now is the time to head to the show and see what's going on. Stay tuned to Car Blog Writers for all the latest news from LA.