Back in December, we talked about rumors of a Volkswagen Dune Buggy, but it's now a reality. The German automaker confirmed that they will unveil the Meyers Manx-inspired VW Dune Buggy at the upcoming Geneva Motor Show this March. Of course, all eyes are on the Chicago Auto Show starting next week, but let's take a peek at what to expect anyway.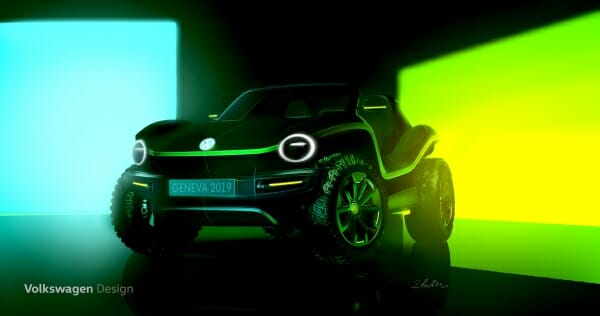 VW Dune Buggy in the Works
VW plans to build the off-roader on the MEB, modular electric platform. The MEB is also the basis for the underpinning of all future battery-powered cars from Volkswagen. Their MEB accommodates front, rear and all-wheel drive setups while providing an electric range of more than 300 miles per single charge.
Unlike the rest of the lineup, this buggy will be an open-top perfect for cruising the beach. Volkswagen released a teaser image which shows the classic styling cues with some modern updates. This includes oversized wheels, high fenders plus a freestanding windshield and included roll bar.
While we still don't know if the VW Dune Buggy will ever see production, we are happy to hear that it will make an appearance. The e-buggy is a great example of the chassis flexibility that allows people to customize vehicles. It may even become the next great Beetle.
Future VW Lineup
VW plans to launch the MEB platform this year with their electric I.D. hatchback. After that, they have a crossover and minivan in the works as well. It's part of Volkswagen's $84 billion investment to battery-powered vehicles. Many of them will be manufactured right in the United States at the Chattanooga, Tennessee factory, beginning in 2022.
As you know, the 2019 Volkswagen Beetle was the last, but VW has hinted that there might be something similar on the MEB chassis in the future. One can hope. Only time will tell what's in store for the future VW lineup.