Electric Vehicles are becoming more frequent on the roadways, charging stations are also easier to find. You could charge your car, truck or SUV while you watch TV or make dinner. The downside to this is that you have to do it manually, no matter where you are. Soon, there will be VW mobile charging robots that do the work for you. This will give you more time to finish that paperwork or prepare a presentation for work.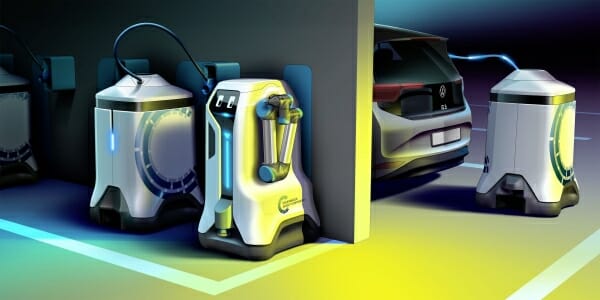 Future EV Charging
Today you must have a charging station for your vehicle, but that's normal right. VW is looking toward the future where the station will find your EV on its own. They are going to be self-charging robots that will go straight to a vehicle by itself.
The driver of the EV will signal the VW robot with V2X communication or with an app. Then the Volkswagen mobile charging robot, towing energy storage devices, will come and connect the plug into your vehicle. After that, it will leave to go to other EVs that need to be recharged. Once the recharging process is finished, it will return to the vehicle and unplug the box so you can drive on a fully charged battery. There is no human interaction required.
Every robot will contain laser scanners, ultrasonic sensors and cameras to help it complete its job. The battery wagons the robots will tow can each hold an energy capacity of 25 kWh each. It can also offer DC quick charging with up to 50 kWh of energy.
Any parking space will do because the mobile charging robot will find its own way to your vehicle. This means the EV does not need to be taken to a space meant for charging. One of the models that will be able to take advantage of these charging robots will be the Volkswagen ID.3.
Plans for VW Mobile Charging Robots
Right now, they want to install 36,000 charging areas in Europe by 2025. VW is installing 400 of them on some of the most significant highways in Europe. The only downside is that this is a prototype, and we have not been given a release date yet. The company is also producing an ID.Charger. This wall box will installed in your home to make charging easier. We aren't sure whether these chargers will be coming to America.
Make sure you also check out the new VW lineup coming soon.