According to Bloomberg, it's been announced that the next generation of VW's internal combustion engine is set to be their last. What does this mean for the future production of Volkswagen vehicles?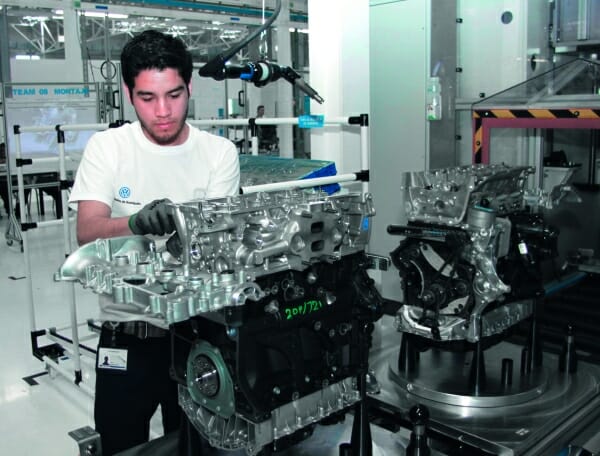 VW's Internal Combustion Engine
Michael Jost, the company's chief strategist, spoke at a conference in Germany last week. He stated that the platform the automaker is creating right now will be the final round of combustion cars.
The plan is to replace all those cars with electric vehicles instead. They hope to reduce the carbon footprint from the company and reverse climate change.
Volkswagen's Brands
If you didn't already know, VW is one of the largest automotive companies in the world. That's because they currently contain 12 brands within their umbrella. Some of the most well known include Audi and Porsche. These automakers have already jumped on the electric vehicle bandwagon. Other brands they own, including Lamborghini, have fallen slightly behind when it comes to technology.
By next year, we should start to see a mass infiltration of electric vehicles. One of the newest electric cars making its first appearance is the Porsche Taycan. In fact, VW plans to spend $50 billion during the next five years to develop self-driving electric cars.
Goodbye to the Gas Engine?
Jost also stated that VW doesn't plan to abandon all gasoline-driven vehicles, they just aren't going to manufacture any new engine designs. They will continue to produce internal combustion vehicles with the existing engines they've created. In fact, because of the internal combustion engine's longevity, we figure we'll still see plenty of gasoline-powered trucks, SUVs and cars well into 2030. On the other hand, the electric car market is set to explode, and there will be plenty more of these vehicles on the road as well.
What are your thoughts on the news from VW? Are you happy to see the automakers moving away from internal combustion engines?
In other news from the company – don't forget to check out the VW Cargo e-Bike we saw at the LA Auto Show.